Now there is a simple software package for the GIC financial industry.
Portfolio Manager is a simple, easy to use program that allows you to maintain clients and their financial portfolio and run a variety of reports. You can enter multiple portfolio items per client and totals are broken down. It also has a summary/detailed report and a maturity date report.
Below is a screen shot of several Portfolio Manager screens: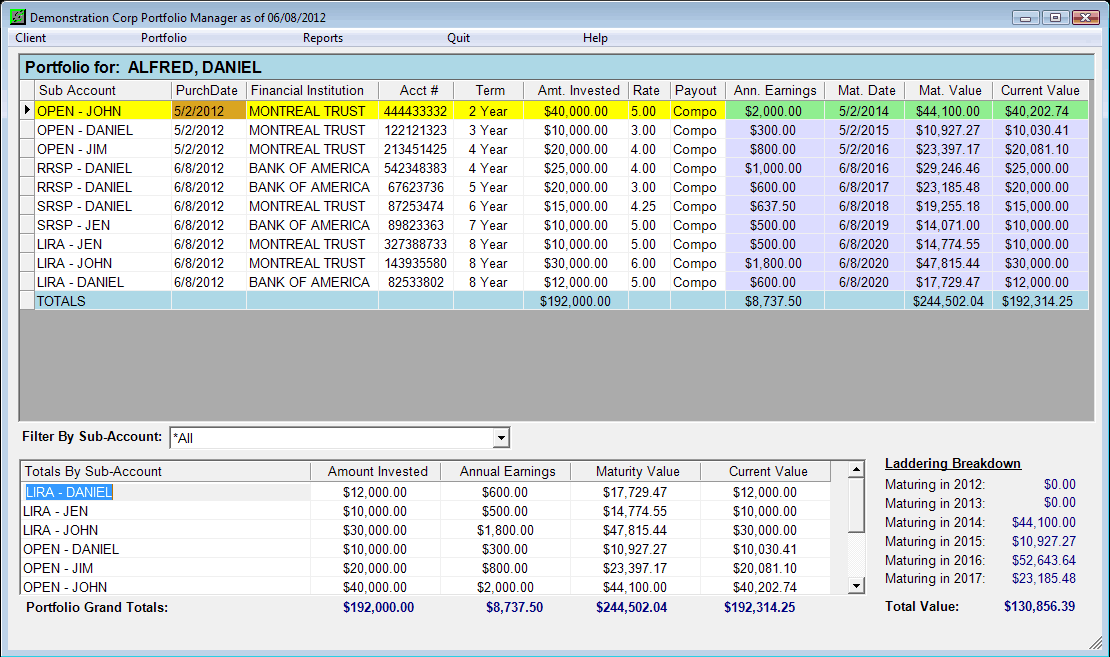 (pinch to zoom image)
This screen is the main screen. It allows you to take sales orders and navigate throughout other sections of the program. This can be done using the ease of use keyboard. You can break down each item into sub-accounts as well. Let say, you have several children and each has a portfolio under your name, this software allows you to group them and break it down on the screen and report.
In this example: Jen Alfred, Jim Alfred, and John Alfred are children/relatives of Daniel Alfred however the entire portfolio account belongs to Daniel Alfred.
Portfolio Manager Features

Maintain Client Names

Maintain Portfolio Types

Sub-Accounts

Financial Instutions

Purchase Dates

Account #

System Portfolio Totals

Maturity Date Reports

Maturity Value

Current Value

Payout

Change Current Date

Summary Portfolio Report

Detailed Portfolio Report

Term Length

Amount Investment

Export Data to Excel CSV

Maturity Date

Annual Earnings
Add/Edit Portfolio Item Screen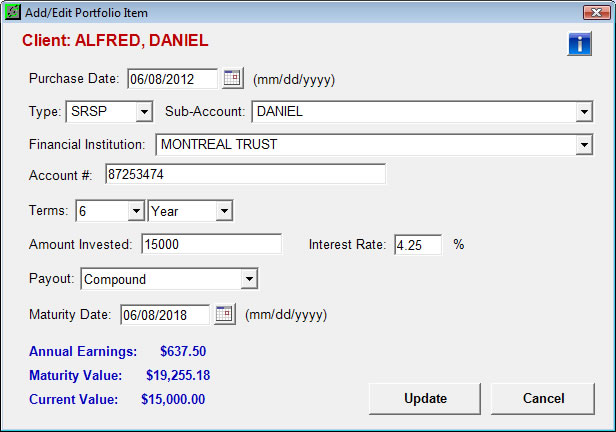 (pinch to zoom image)


This screen allow you to enter portfolio line items. You have several fields to complete: Purchase Date, Portfolio GIC Type, Sub-Account, Financial Institution, Account #, Term, Amount Invested, Interest, Payout, Maturity Date

From these fields the Annual Earnings, Maturity Value, Current Value will be calculated.

Click the "i" button at the top right to see the detailed calculations
Detailed Calculation Screen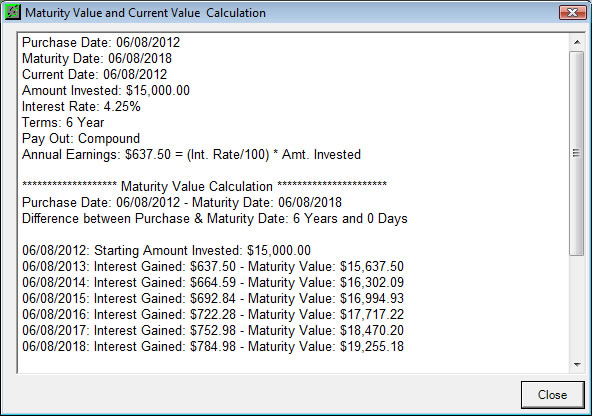 (pinch to zoom image)
Once you enter a portfolio item and a term length and save it, click the info button to see a year by year breakdown calculation of the value of portfolio item. Very useful when clients want to know how much a particular item will be worth after a given time.

This screen provides a very good self checking mechanism to verify the calculations are correct. There is nothing better than to show the math broken down for clarity.


Portfolio Summary/Detail Report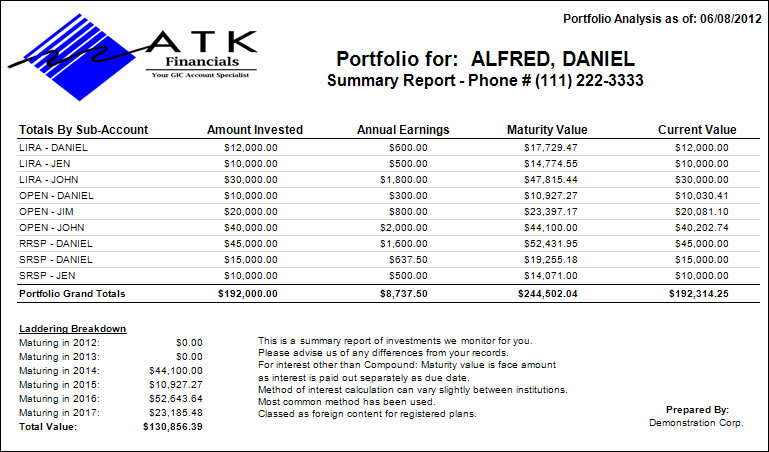 (pinch to zoom image)
Above is a preview/print summary report for Daniel Alfred that shows all his accounts and the current value of his portfolio. It is grouped by portfolio type and sub account. There are additional page that will also show the details of each portfolio type/sub-account combination.


We can also provide additional software customizations to suit your needs with Portfolio Manager.
Tags: gic, gic software, financial software, open, rrsp, srsp, lira, portfolio manager, maturity date, interest, annual earnings