Anyway, here is the example on how to add multiple items to the shopping cart with one single add to cart click. Remember, you will need to make sure the itemcode is replaced with an item code that is in your catalog manager and that the prices match.
STEP 1: Create several items in the catalog manager.
See below. Make sure you assign unique ID code's to each item. These ID's will be used in the next section of code just like when buying one item at a time.
Once you are finished,
make sure you publish your changes.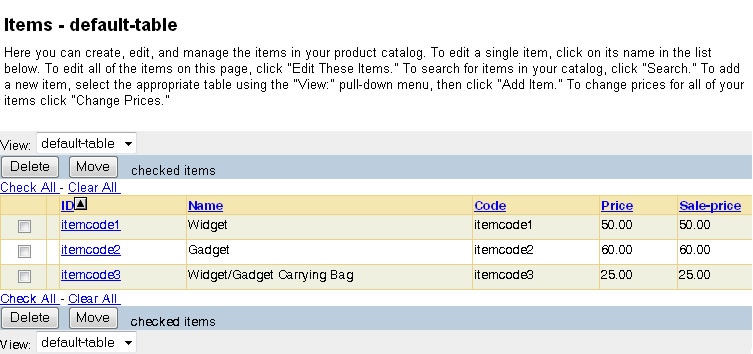 STEP 2: Use the following code below.
Please take special note of how this is layed out.

First, you have special yahoo cart tag in the '
action
' section of the form tag.

Second, each checkbox
must
have a special name starting with "
vwitem##
" where
##
is a sequential #.

Third, note the item
Id
is in the checkboxes
value
clause matching same as catalog manager.
Also make sure item descriptions and prices match that of catalog manager

Forth, toward the bottom, you have this hidden field: .
This field is an undocumented feature of Yahoo store (at least I can't find it...)

Finally, at the bottom, you have your standard input submit buttom. You can also use javascript: document.frmmain.submit();
Once you have added and
published
your catalog items, try cutting and pasting the code below into a
.html
form and upload it to your yahoo store web hosting ftp. This is a basic form listing several items from which you can add them one by one or collectively to the shopping cart.