**** Bowling Pro Shop Owner who used AKM Pro Shop ****
I like AKM Pro Shop because I dont need a very high end computer system to run it. It works beautifully on my current system. Also, versatility, reliability and simplicity are the keys to this program. It lets me concentrate on drilling the ball. I would recommend AKM Pro Shop to any serious Bowling Pro Shop owner ....Jeff Lizzo, Bowlers Touch II

Who wants to waste good unproductive hours studying manuals on how to use a program instead of bringing in more business? Our goal was to make AKM Pro Shop so simple and straight forward that someone who is not naturally computer savy can pick up and use AKM Pro Shop with very little effort at all!
Additional AKM Pro Shop Screens.......

Bowler Personal Information Screen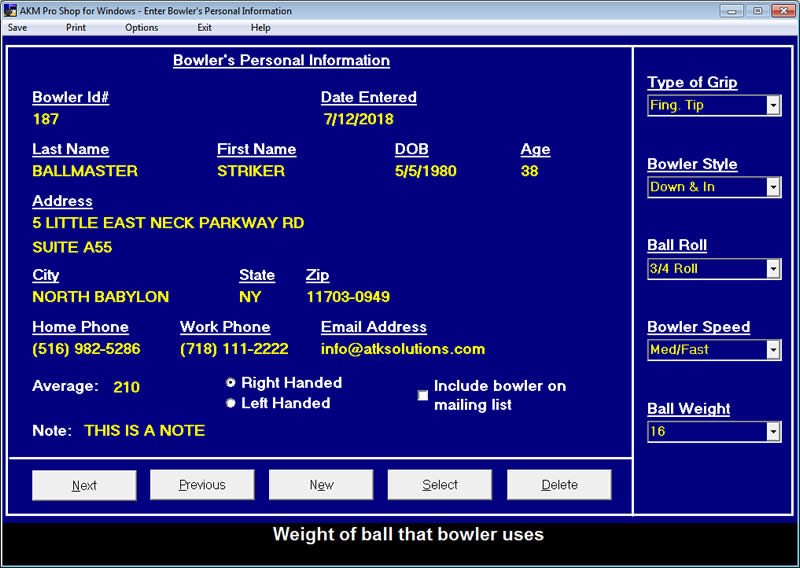 Screen Features

Enter Bowlers Name

Bowlers Address

Bowlers Telephone #

Email Address

Age/DOB

Average

Right/Left Handed

Type of Grip

Ball Roll

Ball Speed

Bowlers Style

Ball Weight

Mailing List

Date Entered

Additional Notes

Saves Bowlers Info.

Prints Bowlers Info.

Delete Bowlers Info.
Bowling Ball Information Screen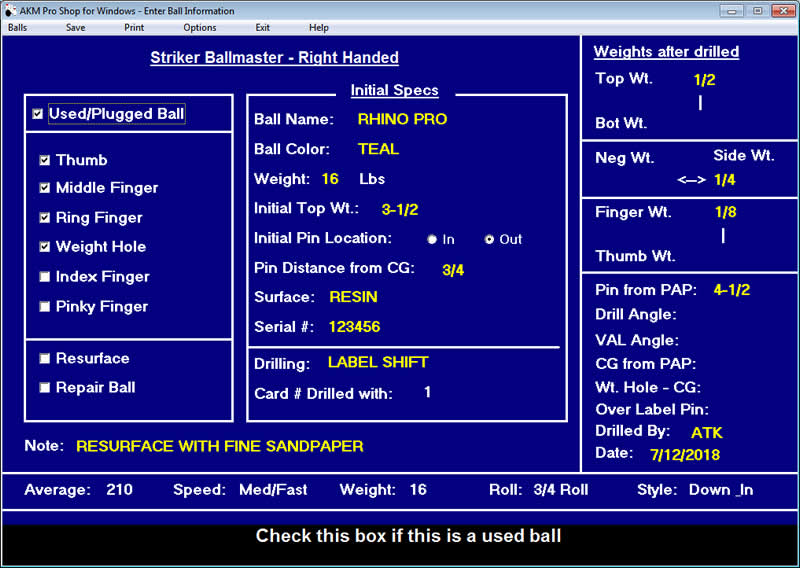 Screen Features

Enter Ball Name

Ball Type/Color

Ball Surface

Initial Pin Location

Type of Drilling

Drill Angle

VAL Angle

Used/New Ball

Used Ball Info

Associated Spec card

Weights after drilling

Multiple Ball Entry

Bowler's Style

Additional Notes
Management Report Screen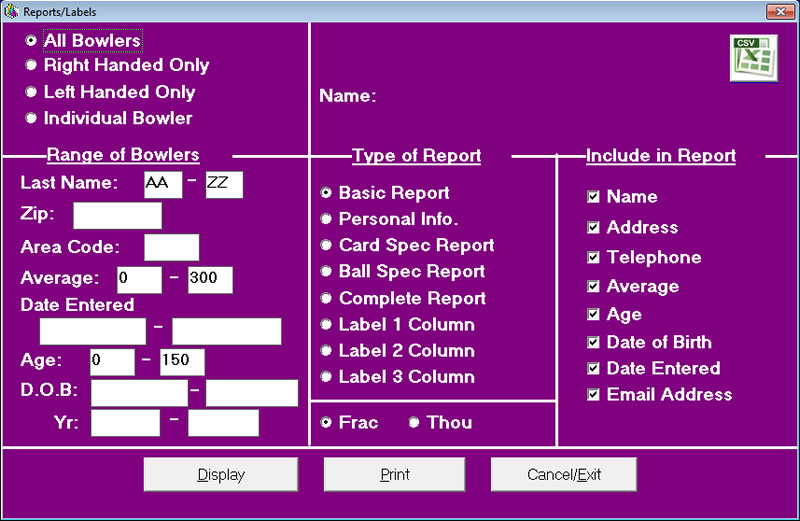 Screen Features

Select Individual Bowlers

Select Bowler by Hand

Display Desired Info

Print Bowler's Cards

Print Bowler's Balls

Complete Bowler's Info

Print Mailing Labels

Birthday Labels

Mail Merge Friendly

Microsoft Compatible

Preview Report

Print Report
Categorized Help Screen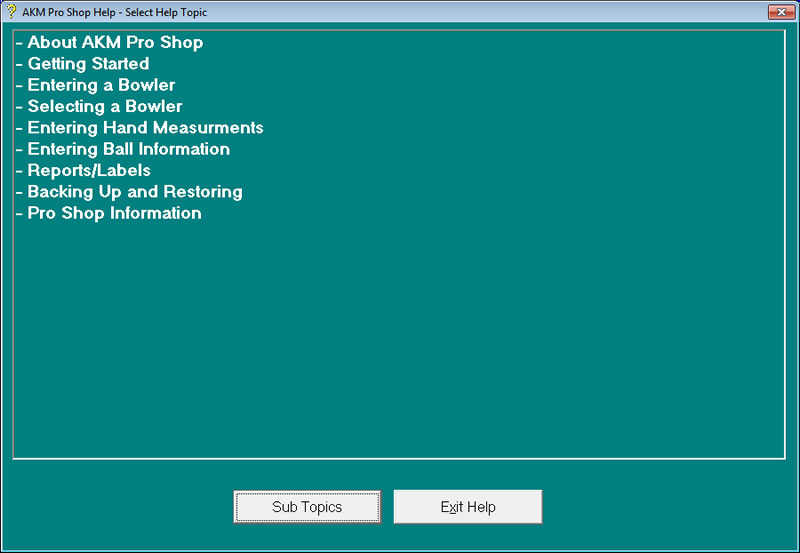 Screen Features

Organized Help Topics

Simple/Easy to Read

Keypress to Access

Accessable anywhere in program

Details all program functions
At the bottom of each AKM Pro Shop screen there are tips to aid you in learning the software.
AKM Pro Shop also works well in conjunction with other bowling products on the market.
Once again,
it has a proven track record and is designed to provide excellent
long-term value
for your dollar for your Pro Shop business. Our software is currently being used by a number of our Pro Shop customers for over two decades now.
If you are looking for bowling drill spec software that is designed to be very simple, fast, easy to use, extremely affordable that gets the job done
quickly & efficiently
then you do not need to look any further.
---
AKM Pro Shop Software Price: $229.00
*** There are no yearly fees with our software ***
| | |
| --- | --- |
| Pro Shop Name: | |
| Pro Shop Owner: | |
*** Orders will be fulfilled through a downloadable email link for speedy delivery ***
---
Purchase AKM Pro Shop and POS Pro Shop Together!

Software Combo Price: $429.00
| | |
| --- | --- |
| Pro Shop Name: | |
| Pro Shop Owner: | |
*** Orders will be fulfilled through a downloadable email link for speedy delivery ***
---